Products
Virled focus mainly on three technological areas, LED Lamps & Light Sources, Solar Cells and Programmable Control Units & Applications.
We deliver high quality general and special designed products and training programs backed based on state of the art technologies and methodologies,
Below you can read about what Products we provide to our clients.
---
Products
LED Lamps
LED is a light-emitting diode based on a two-lead semiconductor light source, which emits light when activated. LED light sources are widely replacing ordinary types of lamps as it consumes much less energy and hence more environment friendly and you can create and manufacture lamps with totally new design.

Virled provides a wide range of high quality LED lamps and LED light sources. (LED Catalogue)
LED Drivers
A LED driver is used to supply a LED lamp or LED Light Source with electricity and depending of usage the voltage and current vary. Many LED Lamps has a driver built in but for more complex installations you often prefer to use a standalone driver to supply energy to one or several LED units. Separate drivers are also used if you want to have a dimming function or want to control your LED application via a PLC or computer.
Virled provides a wide range of high quality LED Drivers. (LED Drivers Catalogue)
LED Control System
When you want to control your lighting system in a more systematic way you may use a LED Control System unit or application.
Virled has products and solutions to build up an effective LED Control System for small standalone installations or large and complex ligthing installations. You may select from our standard assortment or contact us if you need support. (LED Control System Catalogue) Virled do also design intelligent building systems, supply products, and manage the projects for installation of both hardware and software.
LED Energy Optimization Systems
Today's world require companies to review their carbon footprint and reduce where it is possible, and hence a well-defined energy optimization program must be high on the agenda. However, it is often very difficult to understand where to start saving on energy or to use new type of energy sources, such as Solar Cells.
Virled provide a wide range of Solar Cell Units to be used as LED drivers or as a complementary product to help save energy. Virled do also help companies to review their energy consumption on machines and/or facilities (buildings and process equipment) and train people in methods to reduce energy. (Solar Cells Catalogue)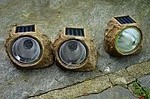 email: info@virled.com